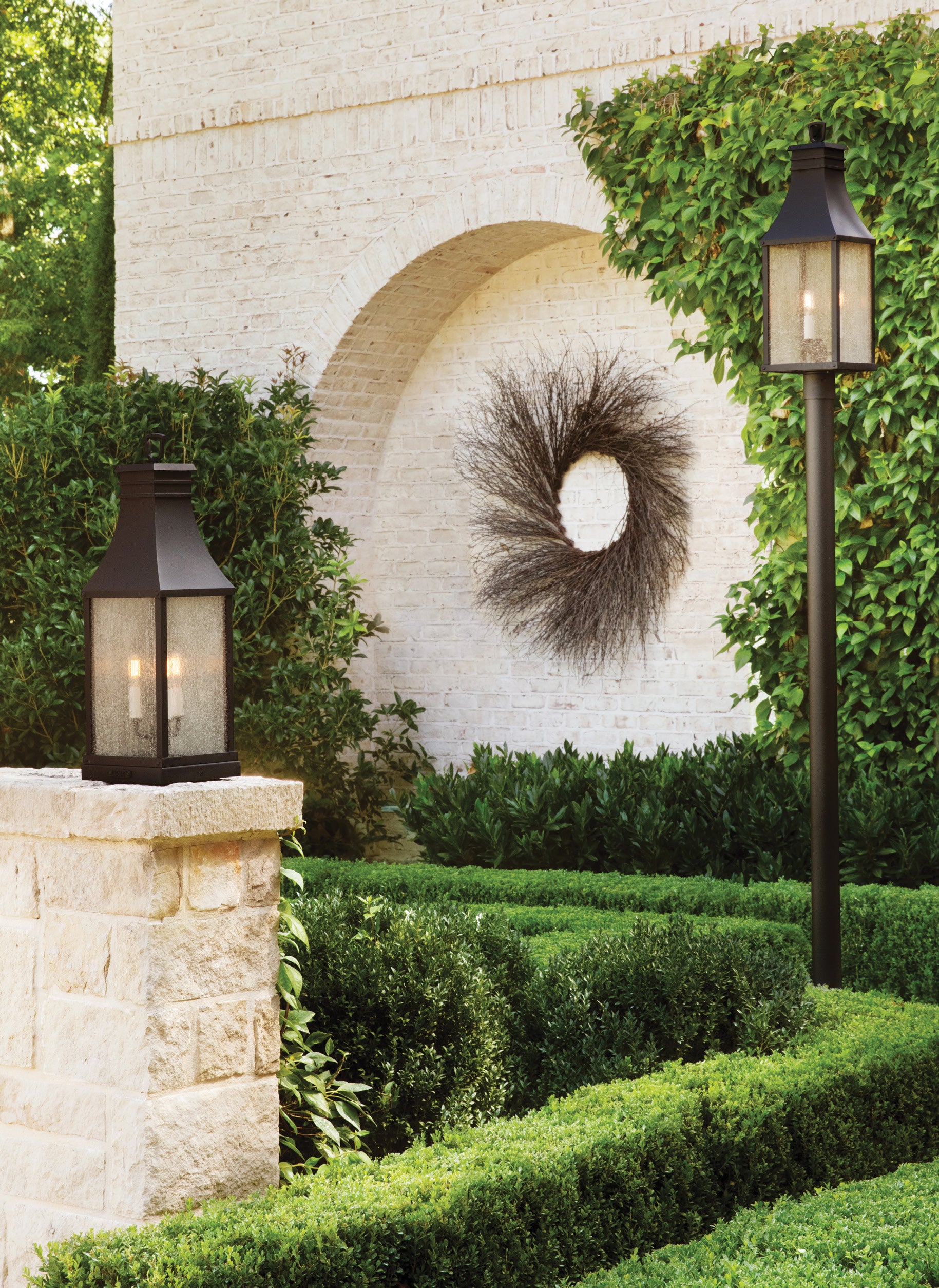 THE
GREAT
ESTATE
---
How to Light Up Grand Exteriors
The need to create exceptional living spaces extends from the entrance of your driveway, throughout your home, and into the backyard. Combining interior and exterior lighting is essential for creating a warm, welcoming environment that not only provides style, but also functionality and safety. This is important for any property, but when tasked with lighting grand estates, it's important to pick the right fixtures that will add to the ambiance without getting lost or in the way.
The Hinkley Estate Series includes carefully curated collections that are defined by the breadth of fixture offerings. Characterized by coordinating composition, enduring architecture, and time-honored craftsmanship, these collections skillfully adapt to expansive properties with extended outdoor living spaces.
Explore some Hinkley Favorites from the Estate Series:
Let the clean, classic design of Alford Place welcome you home. With the smooth lines of the precision die-cast frame matched by the sealed glass roof that provides illumination from all sides, these fixtures have a bold finish that provides plenty of light to balance grand exteriors.
Also a part of the Heritage Collection, Beacon Hill brings traditional style and Old-World charm to a new level. Paired with heavily seeded glass, this collection has a strong profile that holds its own when matched with a stately exterior. The timeless aesthetic, which takes inspiration from an English lantern, stands tall in any space.
A timeless beauty, Revere maintains an authentic appearance through and through. Faux candle sleeves and classic candelabra lamping are the perfect match for stunning white brick, stone, or traditional exteriors. The solid brass and clear seedy glass panels finish off the look that's strong enough to maintain its composure from the front of the house to the back.
A refined combination of modern and traditional, Weymouth has a timeless elegance with a contemporary edge. The subtle, yet overstated frame has a clean design with symmetrical lines that allows this collection to look right at home when paired with other outdoor fixtures. The beveled glass refracts light in an interesting way that catches the eye without being intrusive.
Majestic in nature, Windsor has the elegance to complement enduring architecture without getting lost. With decorative cast detailing on aluminum construction, this collection has scaled-up elements and complementary finishes to outfit your entire property.