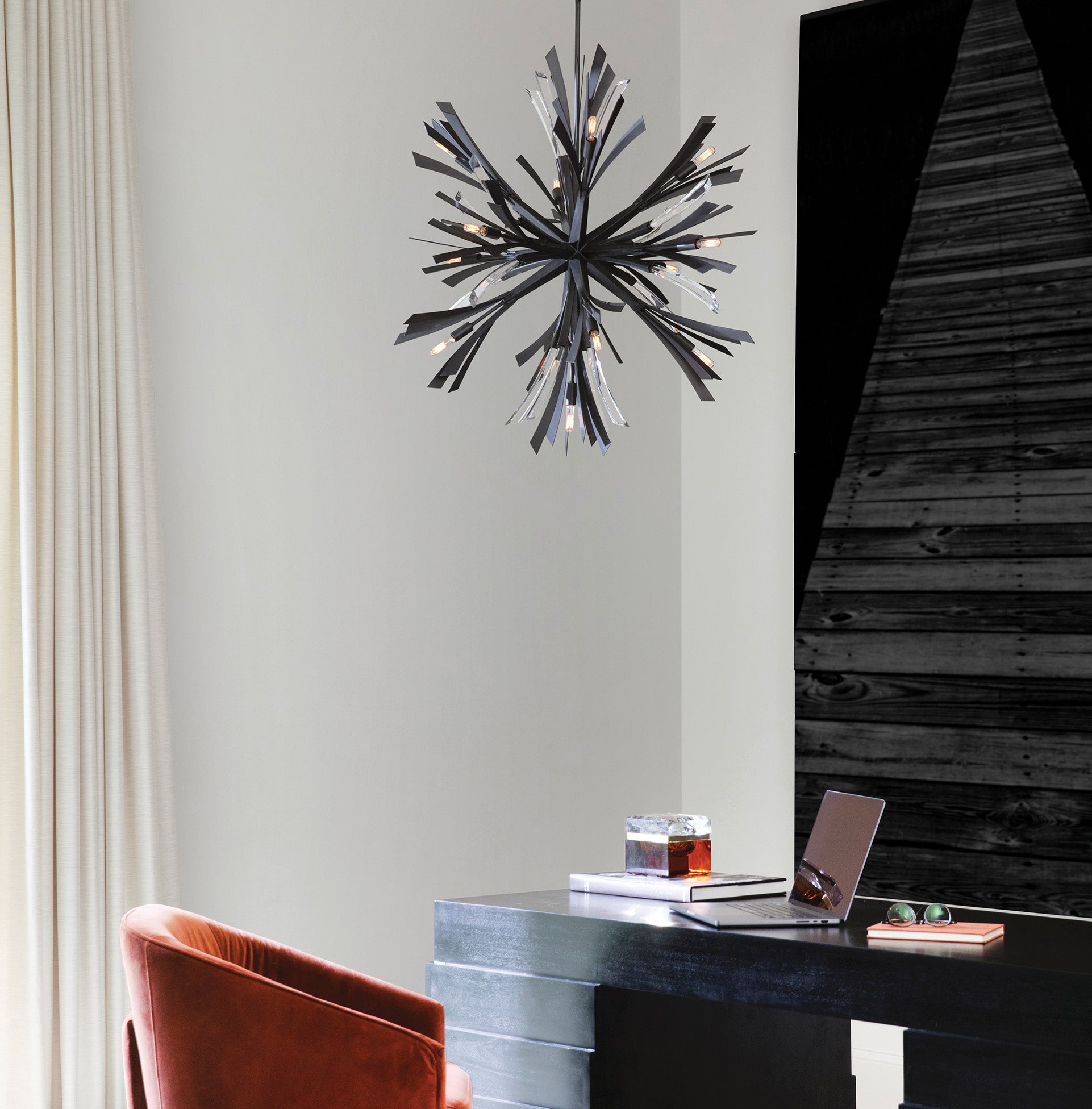 2023 INTERIOR LIGHTING TREND FORECAST
See your space in a new light this year.

Bring fresh style to your favorite living areas with designs that are the perfect mix of on trend, yet timeless style. These are some of the top interior lighting trends that we're most excited about as 2023 gets going.
---
The trends in 2023 are all about statement fixtures, whether that means they are striking in structure, finish color, or materials. One trend that we've seen gaining ground is the use of brilliant, layered glass. Grand chandeliers with pressed glass disks, pendants with a radiant finish, and lustrous sconces with clear or colored glass will amp up the glam and add the perfect finishing touch of sophistication to any space.
2

PENDANTS IN UNCOMMON APPLICATIONS
---
A classic lighting favorite, pendants will never go out of style, but lighting creativity has taken a delightful turn towards the unexpected. Pendant lights and kitchen islands are a timeless pair, but the trend of thinking outside the box will take your pendant lighting to the next level. Whether you swap out a linear chandelier over a dining table or trade in bedside lamps or bathroom sconces for pendants, the unexpected usage is as functional as it is captivating.
---
Striking angles, bold finishes, unexpected materials – it's easy to fall for fixtures that bring the drama to any space. Fixtures that go beyond simple lighting will reign supreme this year, bringing conversation-starting artistry to dining tables, living rooms, foyers and beyond.
---
A more subtle statement-maker, glass globes and exposed lights have been gaining popularity over the last few months. Clear or colored glass shades bring plenty of functional light and still have a clean, polished finish. For an unexpected twist, look for fixtures that have a mix of clear glass and etched dipped glass.
---
With new, innovative technologies comes striking designs you haven't seen before. Integrated LEDs take up considerably less space than traditional bulbs, meaning fixtures can have more unique, sleek forms. Slender sconces take up less room than traditional sconces, but still provide ample light for functionality.
---
Bring the outdoors in with fixtures gleaming with nature inspiration. Leafy, botanical forms brought to life with natural materials infuse your space with an easy, organic glow. A trend that remains strong from year to year, these fixtures have the versatility to complete any vibe, from modern to transitional to bohemian.
---
A classic trend that will never go out of style is using lighting to create a warm and welcoming ambiance. The easiest way to set the mood just right is with layered lighting. Creating multiple light sources that illuminate the spaces that mean the most to you is an infallible way to ensure you have proper lighting when you need it. Using dimmers and several light sources can help bring bright light when needed, and then soften it when it's not. Set the light just right for every occasion.