Chandeliers and pendants are the typical superstars of any space, but it is the modest flush mount and sconce that are critical to layering light and illuminating dark rooms or hallways. We kicked the look and performance of these tried-and-true fixtures WAY up after our product design team was inspired by the seven "elements of art." These elements, which include Line, Form, Shape, Texture, Space, Value and Color (aka the building blocks of art), were woven through this sleek new collection and offer an unbeatable combination of form and function.
"Galerie's signature theme is found in the highly decorative elements of each family," says Lauren Lovett, Product Director at Hinkley. "These different 'elements of art' ensure the entire array of sconce and flush mounts are immediately recognizable as representing Hinkley style and quality, with our well-known focus on details, design and materials."
Even better, the complementary contours, materials and finishes allow each piece to be used in unison or easily combined with other Galerie fixtures. So whether you need wall and ceiling lighting for a room refresh or you're working with a blank canvas for a large project, this collection makes it easy to find seamless solutions.
Let's take peek at the element of art behind each of the silhouettes that make up Galerie, plus some of the epic artists that inspired us for this collection:
Axis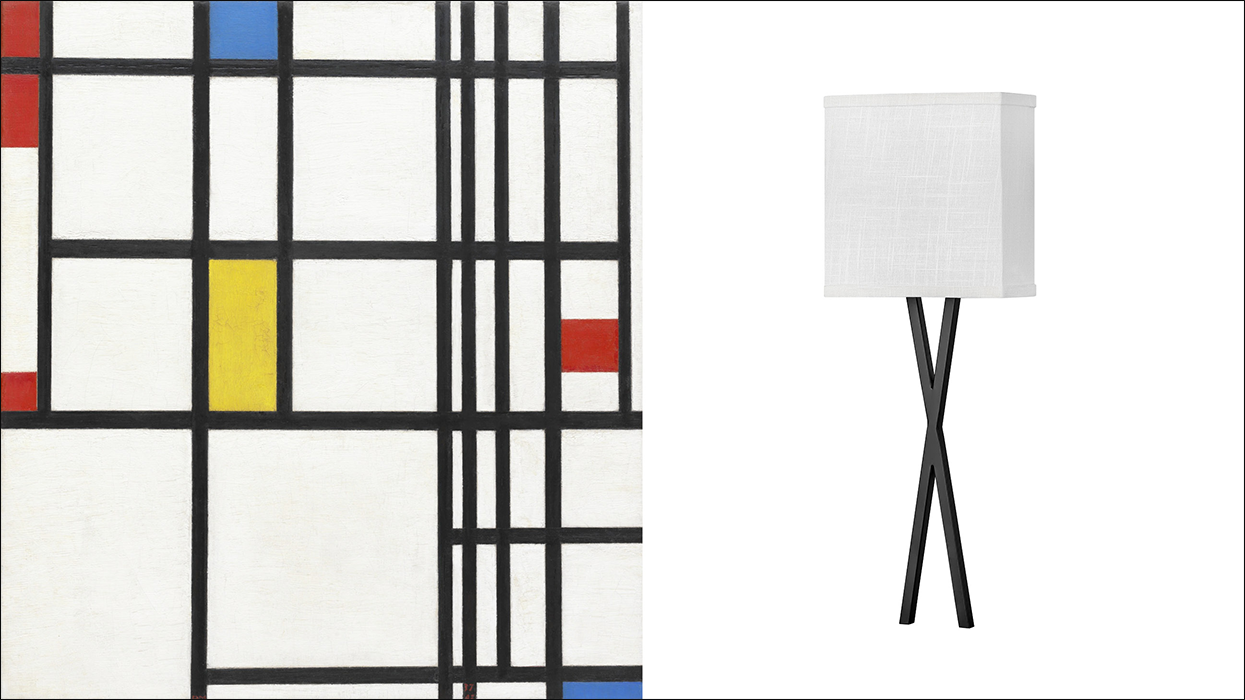 Composition in Red, Blue, and Yellow by Piet Mondrian, 1937-42
Axis uses the Line element to create a bold but classic cross-stem sconce in either robust Black or warm Heritage Brass.
Art Inspo: Mondrian was all about striking simplification to create arresting art, using stark black Lines to make a statement.
Vector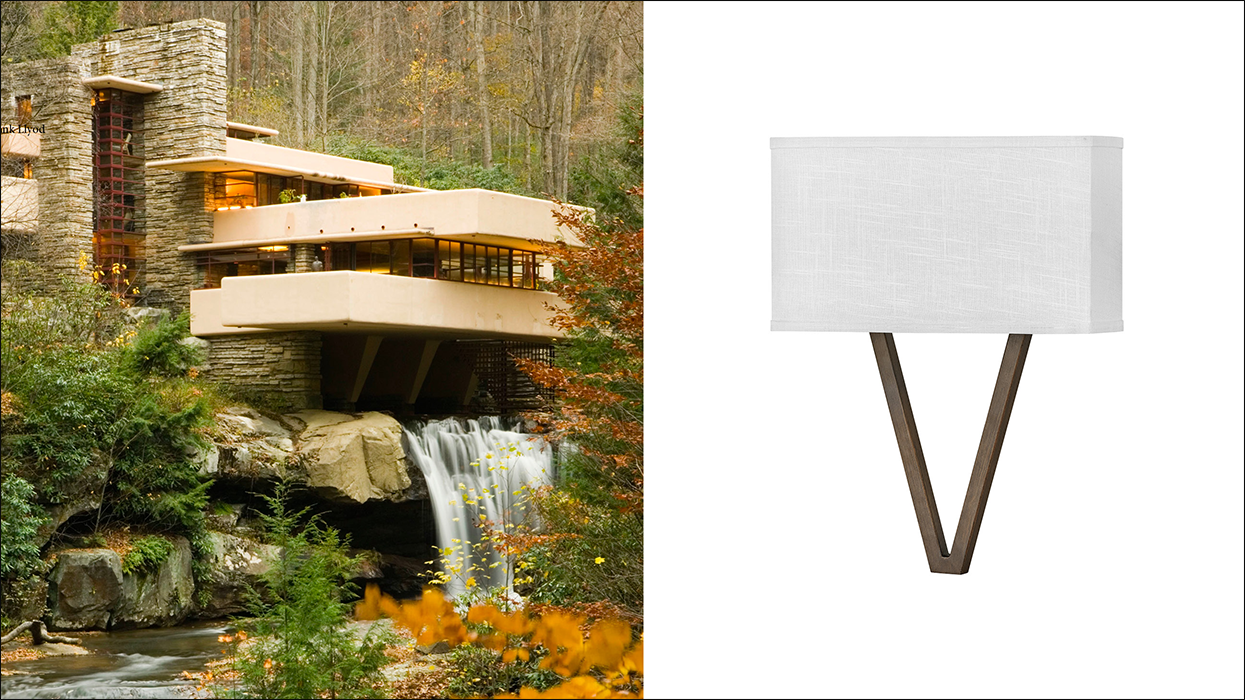 Fallingwater by Frank Llyod Wright, 1935
The Vector sconce puts the spotlight on Form with its minimalist "V" shape constructed in a warm Walnut paired with a heathered shade.
Art Inspo: Frank Lloyd Wright's Fallingwater epitomizes organic Form, with natural lines and earthy textures.
Link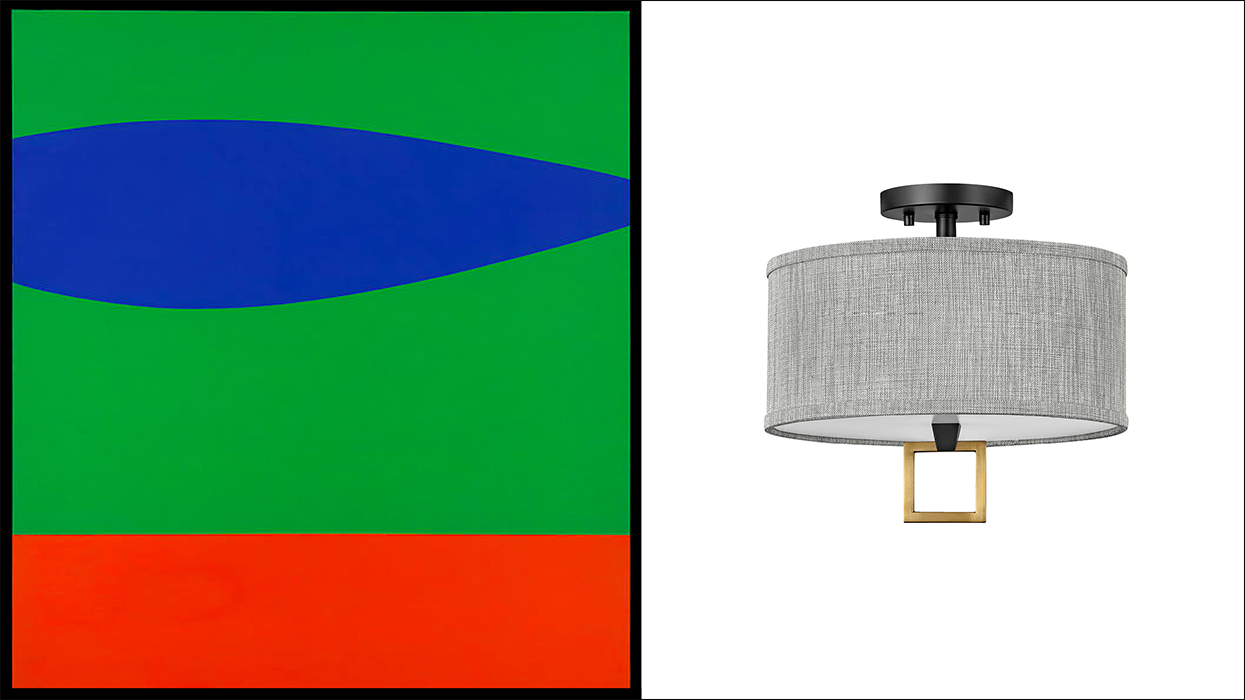 Blue Green Red by Ellsworth Kelly, 1963
Link flush mounts are perfected by the special attention paid to Shape with sleek, well-executed round or square finials that enhance its refined silhouette.
Art Inspo: Ellsworth Kelly was a master of Shape, using its form and scale as a key element in his artwork, which is revered for its lines, shadows and shapes.
Avenue
The Starry Night by Vincent van Gogh, 1889
Avenue sconces offer distinct silhouettes made even more irresistible with its primary focus on a rich sense of Texture in the glossy acrylic or warm heathered shades.
Art Inspo: Vincent van Gogh's The Starry Night delivers a luxurious sensation of Texture that plays to our sense of touch in his epic painting.
Halo
Recumbent Figure by Henry Moore, 1889
Halo flush mounts are designed with luminosity top of mind, and uses the element of Space in its composition to highlight unique details in one cohesive silhouette.
Art Inspo: British sculptor Henry Moore was a pioneer in modern sculpture, using the element of Space in his avant-garde aesthetic to showcase the areas around, between and within a single piece of art.
Luster
Water Lillies by Claude Monet, 1916
Luster sconces create visual interest with refined contrasting tones and materials that add the element of Value, like its airy glass rods paired with deep rich finishes and luxe shades.
Art Inspo: Claude Monet was an undisputed genius at using Value in his paintings to impart balance, depth and beauty.
Color, the seventh element of art, infuses the entire Galerie collection with a refined color palette designed to complement a wide variety of spaces. Each sconce and flush mount is offered in luxurious finish options, from bold Black to warm Heritage Brass, and can be customized with sophisticated Heathered Gray or chic Off-White Linen shades.
Discover more about each piece in Galerie, including distinctive features and performance details, here.