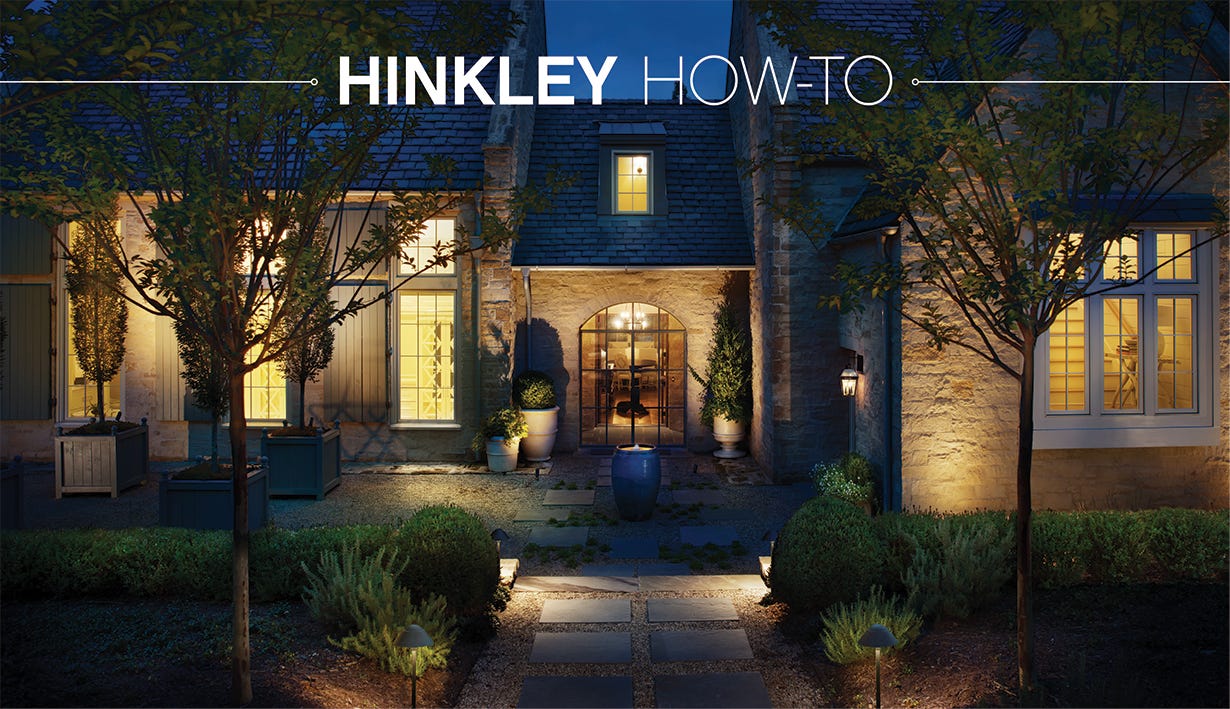 3 Steps to Installing Low Voltage Landscape Lighting
YOUR PERSONAL GUIDE TO A PROFESSIONAL UPGRADE, RIGHT AT HOME
Increasing the enjoyment and beauty of your home's architectural style, as well as the yards, gardens and outdoor living areas are top of mind. To get your exterior glowing, we have a smart, simple approach to get your lighting plan right.
One of the top advantages of creating a low-voltage landscape lighting plan is that you are in control. It is completely flexible: you can start slowly and gradually add in more as budget, time and your space allows…so don't let the technicalities scare you away, we've got this! We recommend thinking about these 3 key areas to get started:
increased safety and security first so all walkways are bright and visible
highlighting important landscape features by adding drama improve your home's appearance and property value
extending your living space by creating a variety of outdoor entertainment areas
We promise these stunning lighting options can be easy and, yes, even fun, to install! Let's dig in!


What do you want to light? Pick favorite trees, interesting plants, fountains, statues or other attractive architectural elements. These items will be the focus of your lighting plan. Think about how you use the property. Are there areas you would like to illuminate for work, recreation or entertaining? Where can added light enhance safety, such as steps or a wall around the side of your home?


LOW VOLTAGE LED SYSTEMS
Most residential LED landscape lighting is done with 12-volt distribution. The system consists of a central transformer, weatherproof cable and low voltage LED fixtures and accessories.
LED FIXTURES
Decide on what fixtures you will be using as part of your complete lighting plan. Choose styles you like and select the appropriate LED wattage for the application.
TRANSFORMERS
Transformers convert your 120-volt household current to 12-volt. Outdoor transformers can be installed on the side of your house and plug into an exterior rated outlet. They must mount at least 12" above the ground. Transformers used indoors (such as in a garage or basement) must be listed for that application. For indoor use, UL requires conduit be used when running wiring through the wall. Calculate the total volt amperage (VA) your system requires. Then choose a transformer powerful enough to handle the total VA and still have some extra capacity if fixtures will be added at a later time.
CABLE
12-volt LED fixtures take power from a weatherproof, flexible 2-wire cable that can be used above or below ground and generally does not need to be housed in conduit or buried as deep as 120-volt wiring. 12AWG cable is minimum gauge recommended for LED installations. Measure the distance from the last fixture on the run to the transformer to calculate the amount of cable needed. Add 1-2 feet of cable per fixture to allow for repositioning.


CABLE FIXTURES AND LAYOUT
If your lighting plan requires more than one transformer, you will need to divide the fixtures into groups or zones. To do so, consider the many areas of your property and how they are used. You may want all of the front yard lighting on one transformer, patio and deck lighting on another transformer, etc. The location of your electrical outlets will also help you to determine how to group the fixtures.
The pictured diagrams will help you wire your system. The black box represents the transformer.
STRAIGHT RUN INSTALLATION
Fixtures run in sequence directly from the transformer.
SPLIT LOAD INSTALLATION
With a Split Load installation, fixtures run in two or more directions from the transformer. Locate the transformer in the center of the run and connect wires to the transformer as you would when using straight run installation.
"T" INSTALLATION
A "T" installation allows more equal distribution of power to the center of the run, or to the run some distance away. For lengthy runs, use 8 or 10 AWG cable to split. Use 12 AWG cable to cross the "T" between fixtures.
MINIMAL VOLTAGE DROP WITH LED
LED fixtures use less amperage than incandescent, therefore more fixtures can be used in a single cable run as compared to incandescent. Each fixture has a built-in durable driver circuit that accepts a wider input voltage range (10VAC-15VAC) thus eliminating the common voltage-drop problems experienced with incandescent systems. Most fixtures can be wired in straight run installations eliminating the need to create zones or split loads. The driver in each fixture will regulate the input voltage and properly power the LED.
VA (VOLT-AMPS) & W (WATTAGE)
All LED fixtures are measured in wattage (the actual electric consumed by the LED) and volt-amps VA (the power supply required to operate the LED). LED drivers convert the 12V alternating current (AC) to direct current (DC) to power the LED chip(s). This additional power to change the current is measured as volt-amps (VA) for each fixture. The VA indicates the power supply or transformer requirement you will need to operate the LEDs. To properly size your transformer, add up the VA for all fixtures on the system. To calculate your energy cost, add up the measured wattage rating of each LED.
For more information on all things Hinkley Landscape Lighting, head to our latest Landscape Catalog, here.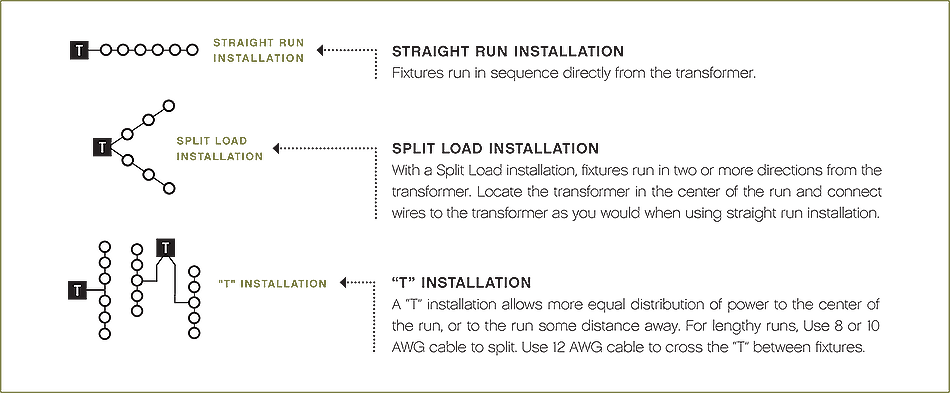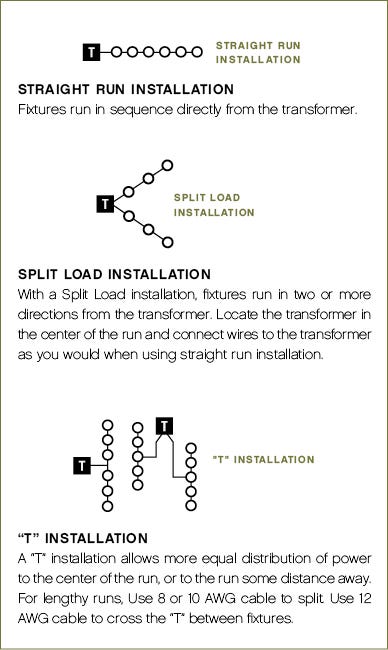 If you are ready to supercharge your outdoor living areas, check out one of our favorite new collections, Low Voltage Luxury Lighting, which is guaranteed to take exterior environments next level with wet-rated chandeliers, pendants, pier and post mounts. Each product is customized with 12-volt LED vintage filament bulbs and must be paired with the low voltage transformer (used in any low voltage lighting plan), for the ultimate all-in-one lighting solution for every outdoor space.
One last note: for larger areas or properties with multiple levels, its helps to work through your initial sketches with a professional. For added safety, call 811 to have your utility company mark the location of underground wires and pipes before you dig. The service is usually free, and helps to avoid any surprises.