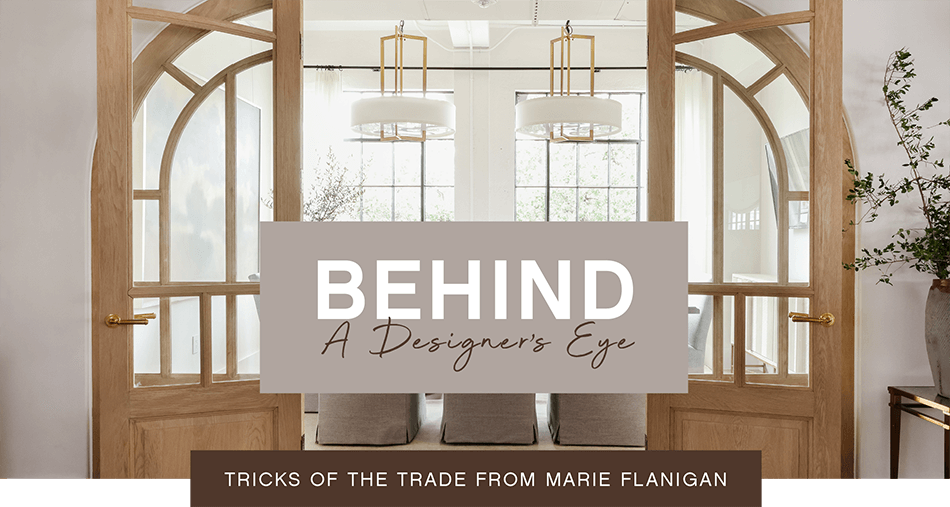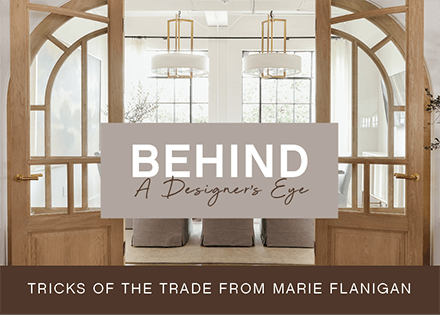 Marie Flanigan is an award-winning interior designer whose passion and achievements in design have positioned her as one of the nation's best. After previously partnering up with Hinkley on various projects, Marie enlisted our help once again for the stunning transformation of her HQ – which gave us the chance to learn a bit more about her approach to design, what inspires her work, and insider interior design tips. Curious? Read on for this exclusive look behind a designer's eye.
---
TELL US YOUR STORY – HOW DID YOU GET TO WHERE YOU ARE NOW?
I have always had a love and passion for design. From a young age, I was always rearranging and repainting my childhood room. I followed that passion became a classically trained architect, but always found myself gravitating toward the hard finishes and details of a space. So, my career in architecture was my segue into interior design. From there it was a very organic transition from my solo interior design career to my current design firm, Marie Flanigan Interiors.
WHAT'S YOUR APPROACH WHEN DESIGNING FOR A CLIENT? IS IT BASED OFF THAT PERSON'S SPECIFIC STYLE OR PERSONALITY?
I tend to ask my clients a lot of questions to get an idea of their style. I want to know what inspires them or what they're drawn to both personally and aesthetically. It's also paramount to understand how the homeowners envision living in the spaces we are designing.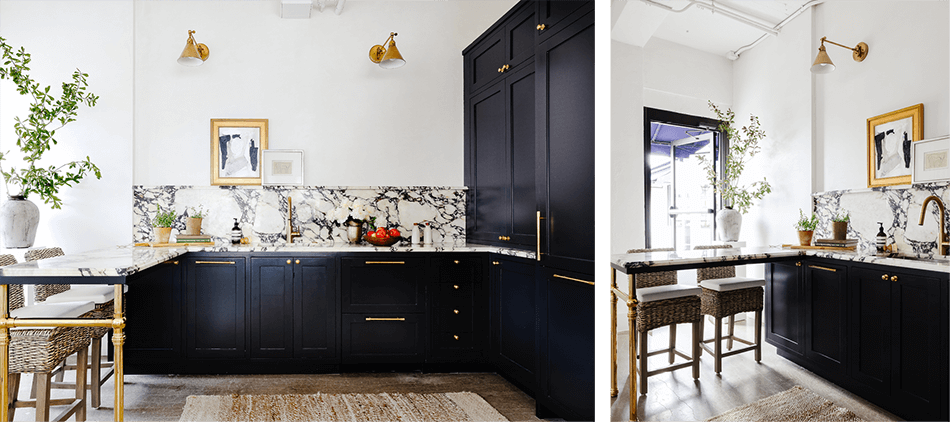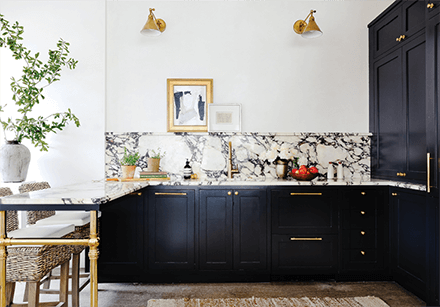 WHAT INSPIRES YOUR DESIGN EYE AND WHERE DO YOU GET YOUR INSPIRATION?
I am constantly inspired by nature. Whether I'm on a neighborhood stroll with my kids or on vacation in Colorado, I'm always seeing and looking to my surroundings for interesting patterns.
ARE YOU MORE OF A CLASSICS/EVERGREEN OR TREND-DRIVEN DESIGNER?
I think of myself as a new traditionalist, which is probably more classics/evergreen. You'll always finds subtle nods to traditional interiors in a lot of my design, but often in an unexpected or updated way. However, there's always room to subtly work in some trends. Being able to cohesively incorporate different aesthetics and styles is a fun part of the job.

WHAT DOES LIGHTING MEAN TO A SPACE IN YOUR OPINION?
Light is imperative to how we experience our surroundings. It creates color and reveals texture which makes it an integral component to any space. It also has the power to shift the ambiance and mood of a room, affecting those in it.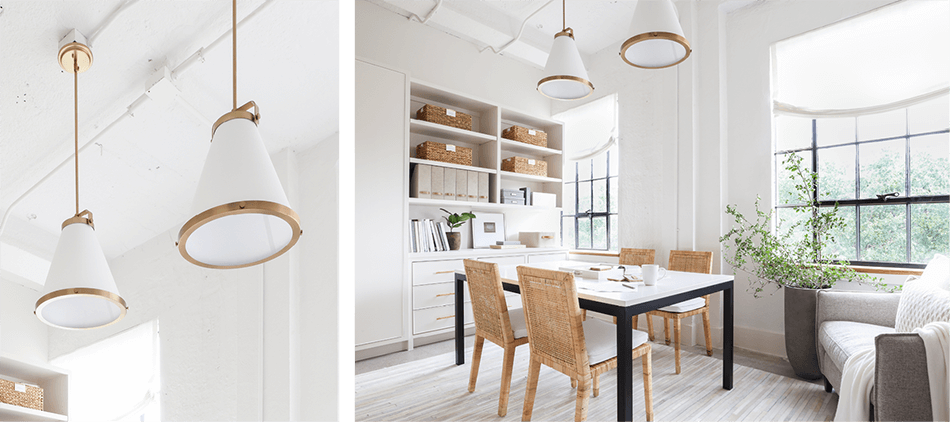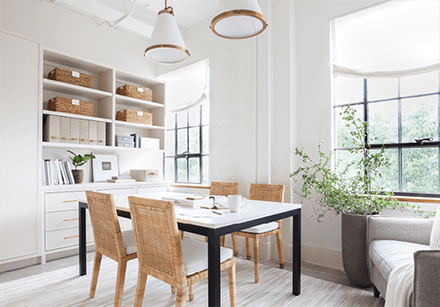 WE LOVE YOUR OFFICE SPACE, WHAT DO YOU RECOMMEND FOR A HOME OFFICE INCLUDING ANY LIGHTING RECS?
Thank you! We are absolutely in love with our new office and are so thrilled with the result. The Hinkley lighting found throughout is such a perfect complement to the space. If you're thinking about lighting for a home office, always consider what type of lighting will work best and how much natural light the room receives. If you prefer a light and bright workspace, you may need a strong overhead light. I also always recommend some sort of task lighting or sconce as an alternative light source. These smaller lights are also great for adding ambiance.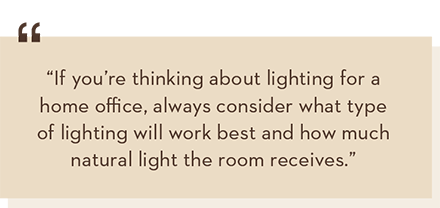 BEING A DESIGNER ALWAYS MEANS BEING ON THE LOOKOUT FOR WHAT'S NEXT. LOOKING INTO YOUR CRYSTAL BALL, ANY TRENDS YOU CAN SHARE?
I would love a crystal ball that predicted trends! I am definitely seeing a beautiful mixing of furniture coverings. So many aged, supple leathers are being paired with amazing jewel-toned fabrics like lush velvets. This trend adds lovely depth and interest to any space.
WHAT'S YOUR FAVORITE SPLURGE AND/OR SAVE TIP?
I think you should splurge on high-impact items! If a client is in love with a splurge-worthy wall covering, I think that's worth the spend because it will have a large impact on the room's design. The same rules apply to artwork and rugs.
One of my favorite ways to save is to go antique shopping. There are so many wonderful consignment or antique stores that have beautiful pieces at great prices. I love furniture with history and just because they're antiques, it does not mean they are always expensive.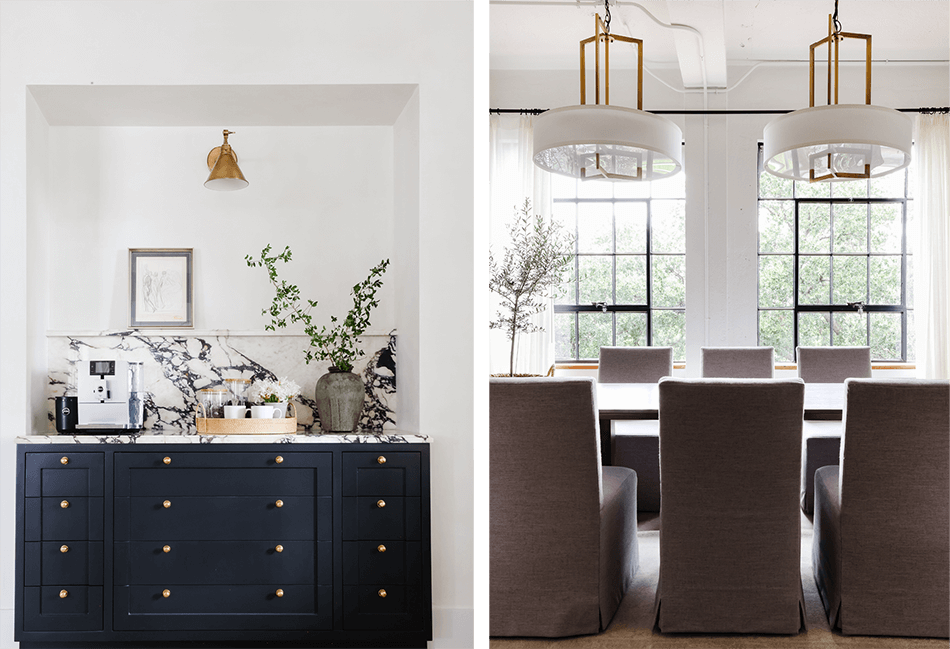 FAVORITE PART ABOUT WORKING WITH HINKLEY?
I loved working with Hinkley because it is a wonderful, trustworthy brand with beautiful products. The team has been so accommodating with our questions and requests, making them a wonderful partner. The best part about working with Hinkley, aside from the wonderful people we got to know, was combing through all of the product and picking out our stunning lighting pieces. It was so much fun envisioning different types of lighting in our space and the Hinkley team made that all a reality