Three Outdoor Styles Guaranteed To Inspire Your Autumn Refresh
Kick up your feet and enjoy the coolest time of the year: Hinkley's ultimate outdoor style guide is guaranteed to inspire your most relaxing Fall yet.
As the nights begin to cool off, let's maximize each and every opportunity spent outside. We can all agree that few things are better than throwing on your favorite sweater, pouring yourself a drink and taking in the crisp, fresh air. With a new season comes new inspiration, so we put together our own combo of today's coolest outdoor lighting paired with some of the season's most necessary accessories for the coziest alfresco upgrades around.
We conjured up three of our favorite sweet spots for you to draw inspiration as you transform your exterior environment into your own stunning sanctuary. Whether you spend your Fall bundled around a bonfire with the kids, firing up the grill with your pals or simply enjoying some much-needed quiet time, you deserve to relax in style in the new season.
FIRESIDE FUN
Gather the kids and dedicate your night to the simple satisfaction of family time. Add a pop of charisma to your patio with a pier mount and pair it with the subtle décor of dimly lit lanterns. When the sun finally descends, hunker down around a fire pit with a sweet treat sure to please the whole family. This season is all about keeping it casual surrounded by your most cherished company.

1. Hinkley Sutcliffe Pier Mount 2. Spoonful of Comfort S'mores Kit 3. Frontgate Fire Pit 4. West Elm Throws
---
WARM WELCOME
Nothing says Fall like grilling out, kicking back with friends, and cheering on your hometown team. To boost your outdoor ambiance with a hint of industrial, add the perfect balance of wall mount lighting. Channel your inner chef and serve up a season favorite while giving your neighbors a day to remember. With a cold one in-hand and a warm welcome to a new outdoor retreat, consider this season all set.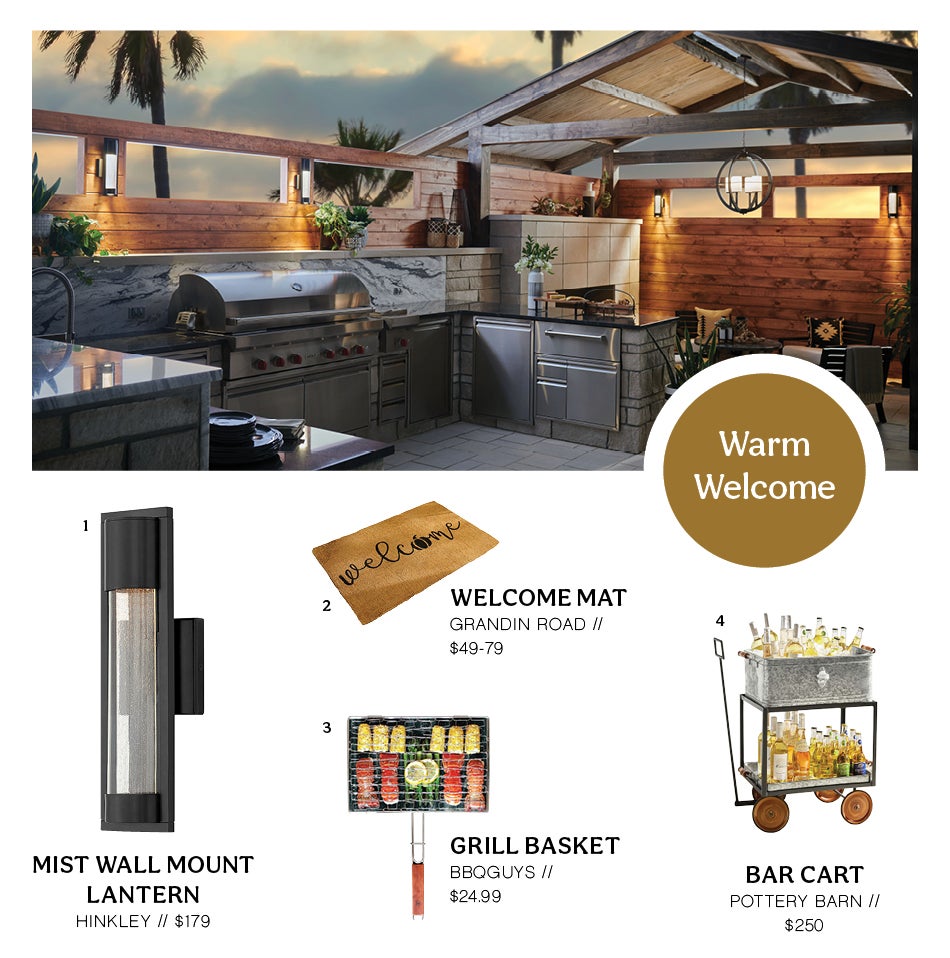 1. Hinkley Mist Lantern 2. Grandin Road Mat 3. BBQGuys Grill Basket 4. Pottery Barn Bar Cart
---
CHIC + COZY AT HOME
With comfort and style top of mind, this time of the year is all about mellowing out and enjoying the simpler things in life. By choosing a statement-making outdoor chandelier, find the perfect balance of fashion and tranquility in your own backyard. Top it off with your coziest blanket, pour yourself a warm beverage and head outside for a night under the stars.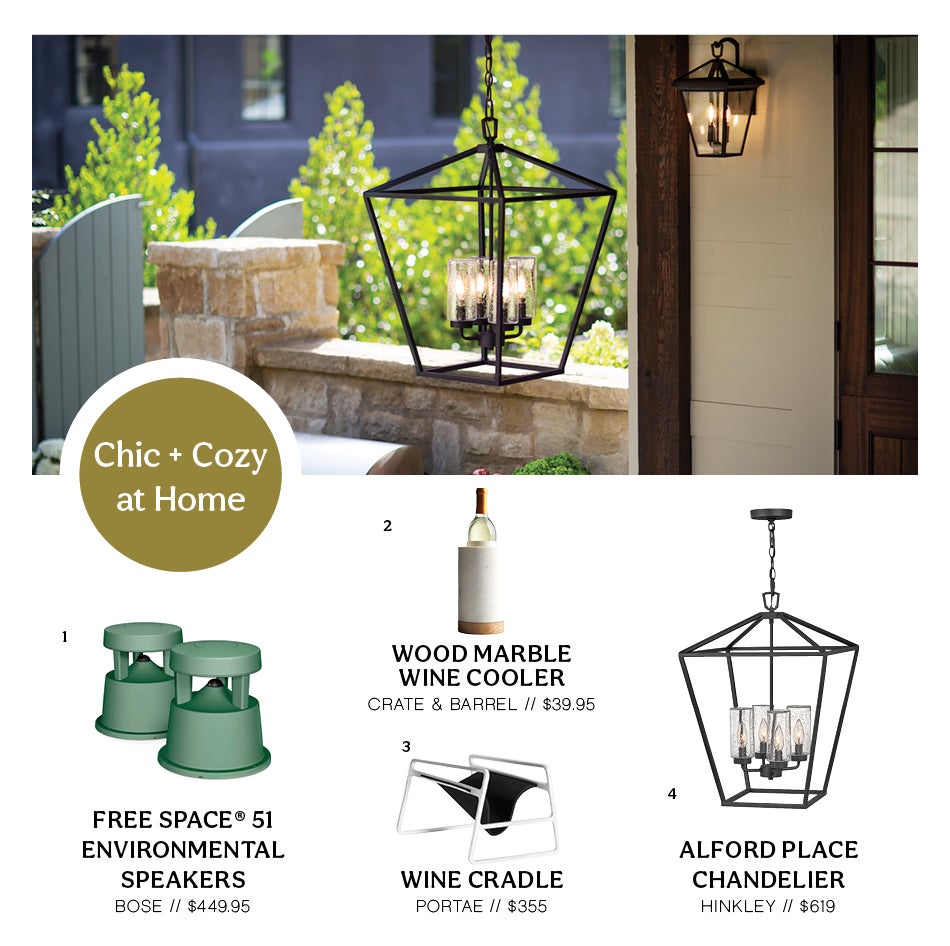 1. Bose Speakers 2. Crate and Barrel Wine Cooler 3. Portae Wine Cradle 4. Hinkley Alford Place Chandelier