It's time to party: check out our ultimate style guide for your best summer yet.
Your outdoor living area is taking center stage and we've got big ideas for maximizing this coveted space all season long. It's no secret that we've all become whizzes at repurposing indoor areas recently: dining room turned home office? Check. Kitchen converted to a kiddie corner? Yep. Living room transformed to personal gym? Done. Bathroom turned private escape from it all? Ditto.
Now it's time to throw open the doors and put your sunny space to work! Hit refresh with the help of Hinkley's ultimate Summer Style Guide. We are sharing our own special mix of the coolest outdoor living solutions in lighting and fans, along with some of the season's best alfresco accessories to make it easy breezy just for you.
Come along and embrace the sunny side of things to beat the heat while transforming your exterior environment into your new happy place. It's time to relax and reconnect in style. Whether you crave a relaxed game night with friends, cooling off with the kiddos, throwing a chic soiree or chilling in a quiet Zen retreat, we are officially declaring this the summer of fun. Your backyard is beckoning, so let's go!
ULTIMATE SUMMER STYLE GUIDE:
4 FUN SPACES TO INSPIRE YOUR NEW SUMMER HANGOUT
Splash Pad
Dive in and make your outdoor pad the perfect place to create some waves while enjoying family time. Choose a modern ceiling fan paired with minimalist lanterns to instantly elevate the exterior. Up the ante by adding in the ultimate grill, luxe towels with peppy prints and a zippy floating cooler to make summer fun an absolute breeze with kids, neighbors and friends.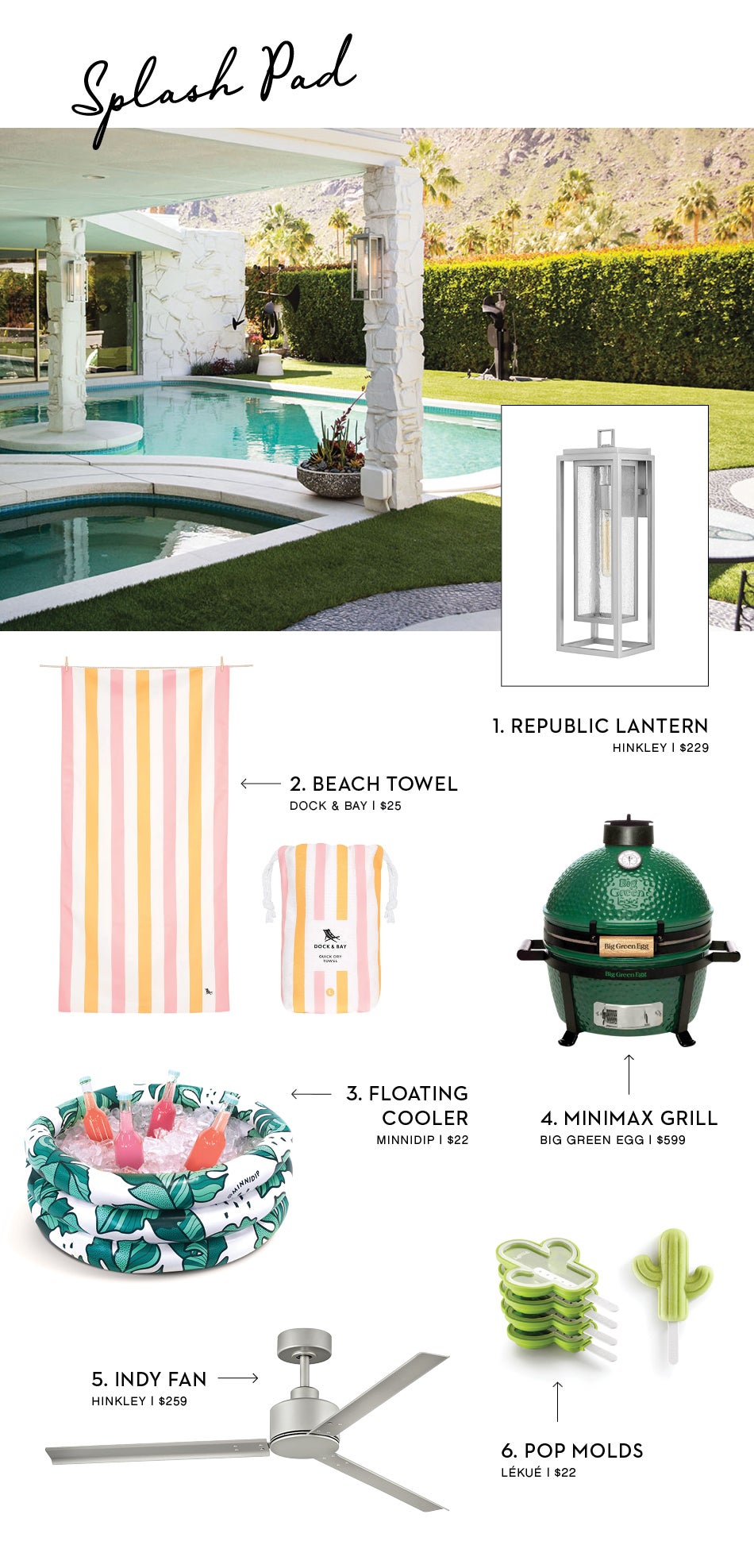 1. Hinkley Republic Lantern 2. Dock & Bay Beach Towel 3. MinniDip Floating Cooler 4. Big Green Egg Grill 5. Hinkley Indy Fan 6. Lékué Pop Molds
---
Soothe Operator
When it's time to unwind, shift into neutral with a peaceful retreat. Create an oasis of calm with a chic portable speaker and earthy elements like a personal mini-fireplace that reinforce a spa-like vibe. Sleek modern LED lanterns set on a dimmer double as mood lighting, while contemporary deck and path lighting add security for total relaxation. Layer in an unexpected pop of color with chic dinnerware and an over scaled glass dispenser for cocktails at sunset.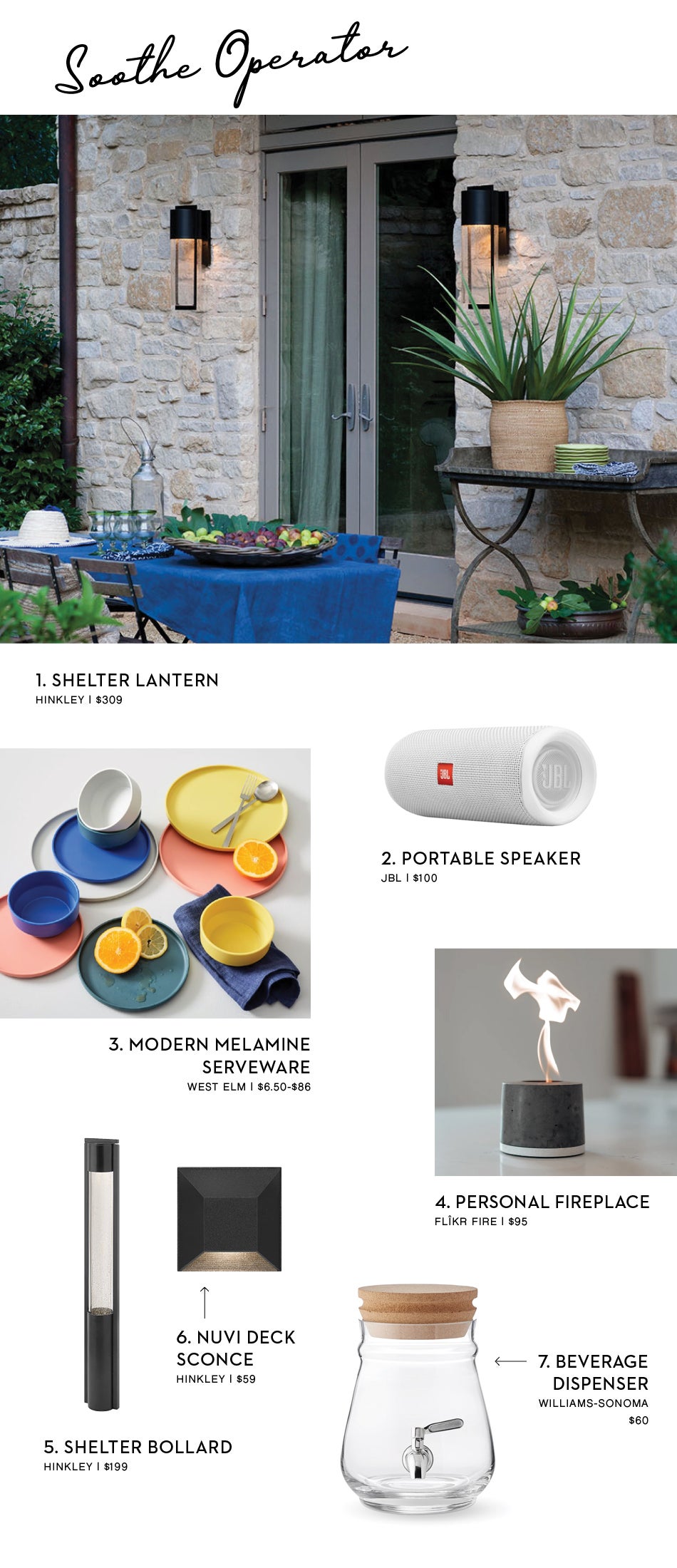 1. Hinkley Shelter Lantern 2. JBL Portable Speaker 3. West Elm Serveware 4. Flikr Fire Fireplace 5. Hinkley Shelter Bollard 6. Hinkley Nuvi Deck Sconce 7. Williams-Sonoma Beverage Dispenser
---
Clubhouse
Step outside to your own private getaway with VIP access. Chic outdoor chandeliers and lanterns, plush furniture and a well-stocked bar cart ensure a sophisticated open-air ambiance. For a deluxe spin on this spot, enhance enjoyment with outdoor movies and games to create an exclusive gathering space under the stars.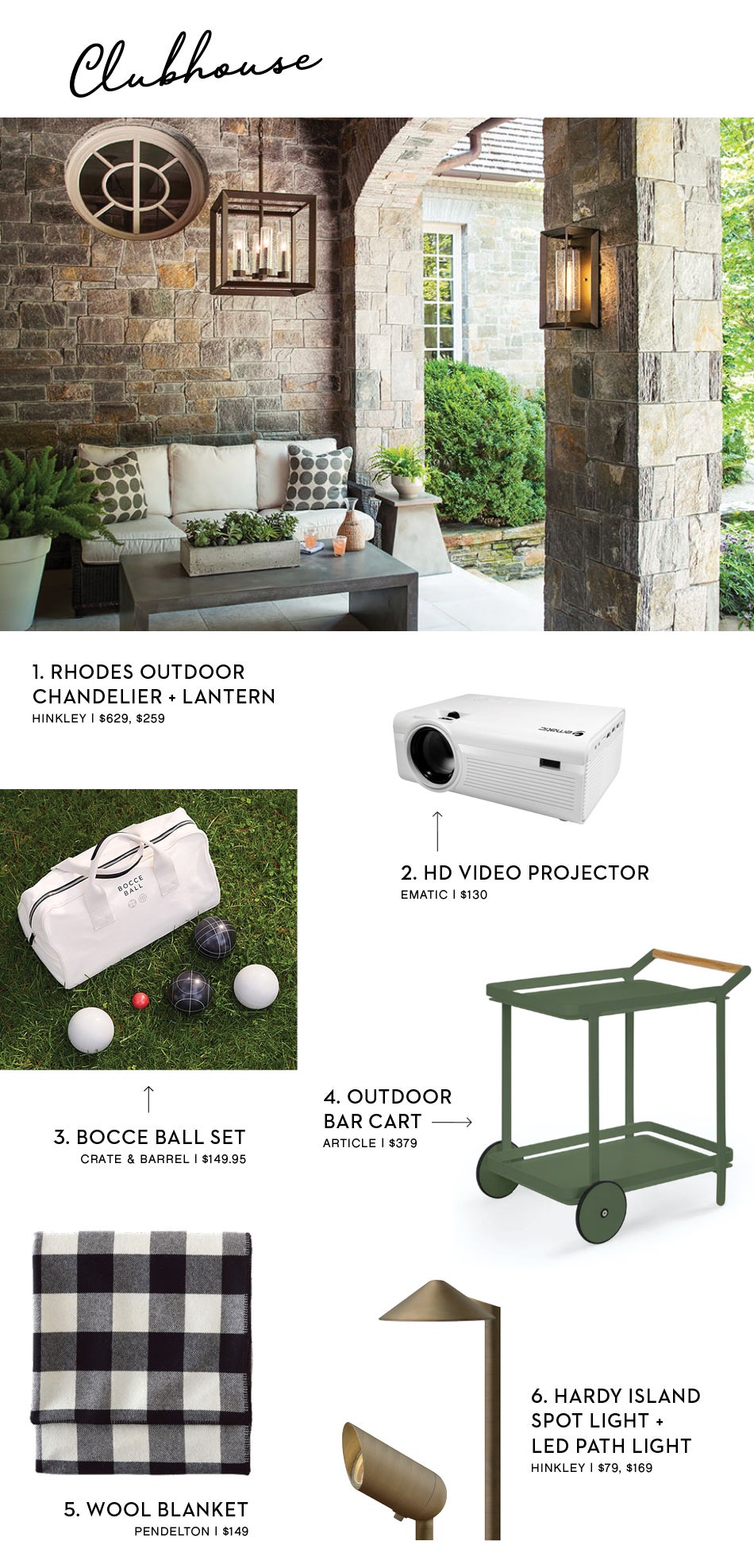 1. Hinkley Rhodes Chandelier, Lantern 2. Ematic Projector 3. Crate & Barrel Bocce Ball Set 4. Article Bar Cart 5. Pendelton Blanket 6. Hinkley Hardy Island Spot Light, Path Light
---
Let the Good Times Roll
This summer, it's all about keeping things cool with close friends around. Perfect for the hot days that turn into cold nights, this space has what you need to host the ultimate chill sesh with your buddies all day long. Relax with an ice-cold beer under the swift breeze of an outdoor ceiling fan as you take in the summer heat, and cozy up under your rustic cabana when the night rolls in.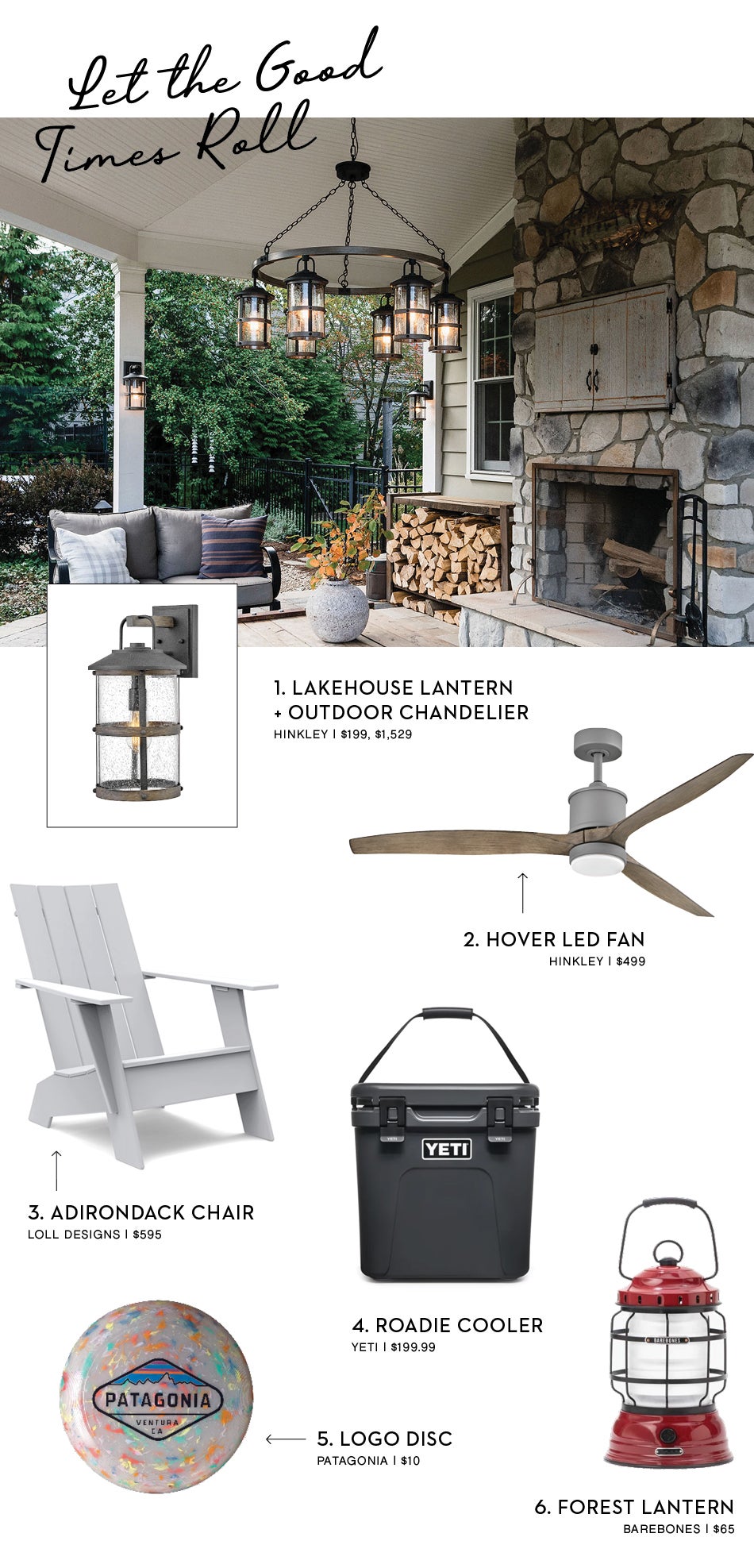 1. Hinkley Lakehouse Lantern, Chandelier 2. Hinkley Hover Fan 3. Loll Designs Adirondack 4. Yeti Cooler 5. Patagonia Frisbee 6. Barebones Lantern